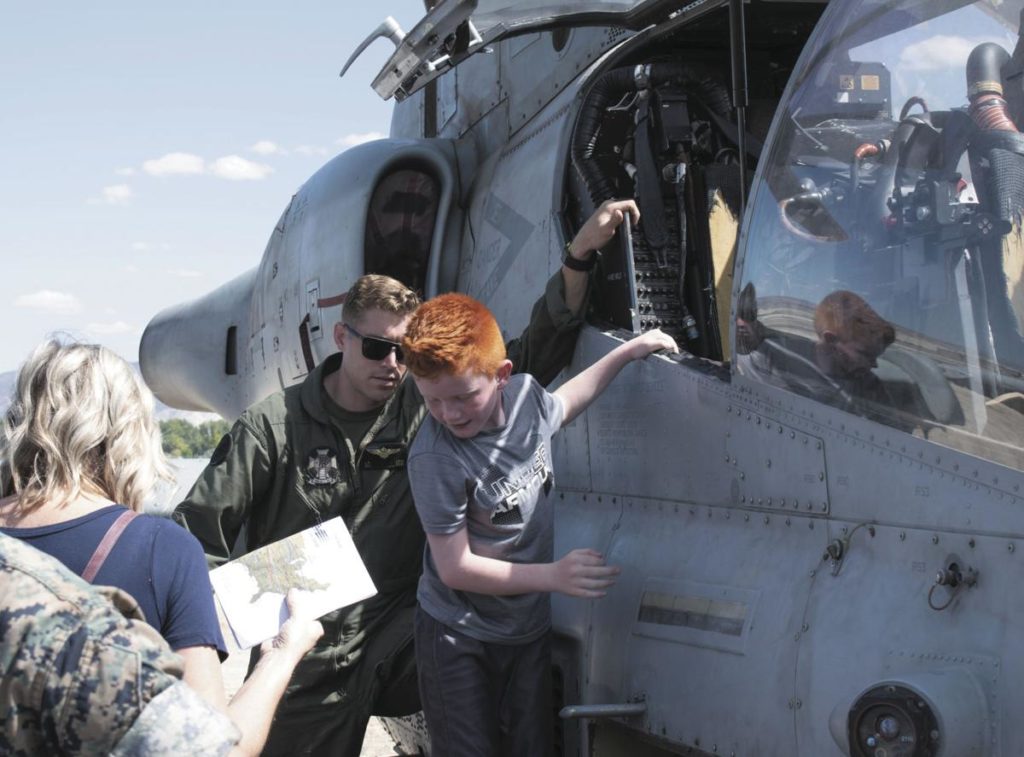 Five years ago, Montrose Regional Airport launched its idea — a late-summer public event to showcase aviation in a family-friendly setting, with an everyone-friendly admission cost of $0.
The annual Tribute to Aviation will mark a half-decade when it returns to the airport Sept. 14 and 15.
"We are amped," said Aviation Director Lloyd Arnold. "We've got a lot of exciting things coming for the Tribute."
The Tribute offers the public a static display of military and private aircraft, including helicopters, tankers, fighter planes and vintage craft; many planes and choppers can be toured and the pilots and some crew members are available for questions.
More information about the aircraft coming in and the Tribute can be found at tributetoaviation.com.
Although aviation is the focus, there are also activities, several of them geared toward children who can learn and enjoy themselves at the same time.
New this year is the Commando Experience, a trailer where kids can go from station to station to learn about the military.
Oh — and skydivers. At about 10 a.m. each day of the Tribute, Ultimate Skydiving Adventures divers will wow crowds.
"They're going to bring down the American flag and the state flag. We continue to have the whole gamut of aviation here," Arnold said.
"It's a family event. We have things here that will interest the whole family, from the kids, to the parents and the grandparents."
DAILY HEADLINES
The big news of the day, delivered to your inbox every weekday morning expect Monday.
Enter email address
This year, the WWII B-17 four-engine bomber Sentimental Journey — complete with ball turret and, gracing the nose, an image of Betty Grable — will be available for tours.
Sentimental Journey actually arrives Sept. 9 and will be at Atlantic Aviation, next door to the airport until Sept. 14, when it heads to the Tribute.
Rides can be booked in advance while the bomber is here; these cost $850 per person, to offset the fuel and hourly costs of operating the plane, which is one of only 10 "Flying Fortresses" (B-17Gs) still flying in the world.
Flights are pricey, volunteer coordinator and Sentimental Journey enthusiast Dr. Dick Manhart of Montrose said — but he also said he's never seen anyone get off one of those flights disappointed.
Plus, at the aviation tribute, people can view the plane for free or explore the inside for $10 per person, or $20 for a family of four or more. Because of the bomber's configuration, those touring the inside must be able to climb a ladder and crawl up through the cockpit.
Information about flying tours and booking options can be found at www.azcaf.org, or call 480-462-2992.
"I think it's very important. This airplane is a WWII veteran," Manhart said.
"It did not go to Europe, but it went to the Pacific Islands. As far as I'm aware of, it never dropped any bombs, but it was the mother ship for the drones that flew through the original atomic bomb tests. It is a living piece of history."
Manhart, who winters in Arizona, worked with the Arizona Commemorative Air Force to bring the Sentimental Journey to Montrose. The associated costs are funded in part by private money.
Manhart grew up during WWII, in which his brother served and a cousin died. His father, a professor by trade, also was mechanically inclined and Manhart remembers using the skills he learned from him to keep a car running during the war. It all sparked a lifelong interest in both mechanics and planes.
"I've always been interested in aviation. For the last 20 years, I spent my winters in Arizona, working on that airplane, everything from polishing it to changing an engine," Manhart said.
He's been all over the country in the plane, which he said draws mixed results from WWII veterans — some are emotional, while others confide they don't care if they ever see such planes again.
"It's a matter of keeping history alive, literally," Manhart said.
Manhart is in charge of coordinating the Sentimental Journey's trip here. Those logistics are only part of what must be undertaken to deliver the two-day long Tribute to Aviation.
"It's a significant undertaking and there is an enormous amount of logistics that goes with getting all the aircraft here into the airport. It really takes all year," Arnold said, later thanking Montrose County Commissioners Sue Hansen, Roger Rash and Keith Caddy, along with Media Relations Manager Katie Yergensen and Digital Communications Project Manager Erika Story for their support, as well as the event sponsors.
"It's a great effort by the team here at the airport. We all work on it. It's something that we're passionate about and like to do. It's great for the community, which makes it even better," Arnold said.
"It's a free family event," Yergensen said.
"We recognize it's hard for families to find free entertainment that includes an educational component. We encourage people to keep their eyes to the skies, because we have additional aircraft coming in. So keep your eyes on the skies Thursday and Friday (Sept. 12 and 13)."
The airport is learning more every year about how to refine the event even more — and every year, Tribute has grown, Arnold said.
"What we really try to do is grow opportunities for youth education. I think we've been successful in that," Arnold said.
"The event is really to focus on the capabilities of the airport and let the youth of the region know it's available to them in the future and let them know what the military has to offer — and what aviation as a whole has to offer."
Manhart said the county's undertaking is impressive. "I've been to a lot of airshows and this one is as good as any I have ever seen in cities 10 times the size of Montrose," he said.
"It is the real thing."
Katharhynn Heidelberg is assistant editor and senior writer for the Montrose Daily Press.